Ways to save on your Home Insurance
July 16, 2018 in Home Insurance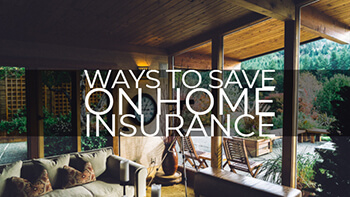 Home insurance covers some of your most valued possessions, but that doesn't mean it should cost you more than it needs to. For most people, cost of home insurance premiums may seem to grow year after year. This means an ever tightening strain on homeowners' annual budgets. Following are a few tips to help you reduce these costs:
Consider increasing your deductibles
Typically the deductibles range from $500 to $1000, on some policies you can go up to $2500. Keep in mind however that if there is a claim, you'd need to be comfortable with the payout. Your homeowner's deductible is the amount in dollars, of risk that you are prepared to pay in the event that you need to make a claim on your policy, BEFORE your home insurance provider will pay out on any claims. Increasing the deductible will lower your total, but decrease the amount you receive if you ever need to make a claim. At a point, the amount you save isn't nearly comparable to the risk of having less coverage in the time of a crisis.
Bundle your home insurance with your Auto insurance provider
Insurance companies offer what they call a Multi-Line discount – discount on both policies for buying more than one type of insurance with them. But make certain that this combined price is lower than buying the different coverages from different companies.
Along with the health benefits, a smoke free household can also save you money on your Home insurance. Many insurance companies recognize that home fires are often caused by careless smoking and that homeowners that smoke are much more likely to experience fire loss in their homes.
Pay your premium annually instead of monthly
Premiums are often financing and administration fee if you pay on a monthly basis – so if you can afford to, pay for the year in advance for the savings.
Being safe pays you back. Installing an alarm system, deadbolt locks and proper smoke and carbon monoxide detectors can lower your premium.  The insurance company faces a lesser risk regarding you losing your belongings with the increase in security. Before you install once, check with your insurer to find out what type of system isn't eligible for the discount and how much you could save on your premium if you installed it.
Many companies offer discounts for being a long term customer, being a member of certain professional organizations, being a retiree, or other reasons. Ask your broker if you qualify for any.
Check your current coverage
 Make sure you're not insuring what you don't have. Your home policy includes an automatic protection limit for your personal property. This amount isn't adjustable but varies depending on the carrier and the coverage agreed to. If you don't need all the protection you can lower it to save some money. But be careful as you may end up needing it. Your broker could help you by providing a worksheet to conduct a quick personal property calculation.
Review the limits and the value of your possessions at least once a year during renewal.
Consider the cost of homeowner's insurance when buying a home
You pay less if your house is close to a fire hydrant or in a community that has a professional rather than a volunteer fire department. It may also be cheaper if you home's electrical, heating and plumbing systems are less than 10 years old.
If you live in areas prone to high winds or coastal storms, consider a brick home as they're more wind resistant. If you live in an earthquake prone area, look for a wooden frame house because it's more likely to withstand this type of disaster. Choosing wisely could cut your premiums by 5 to 15 percent.
Remember that flood insurance and earthquake insurance are not covered by a standard homeowner's policy. If you buy a house in a flood-prone area, you'll have to pay for a flood insurance policy that costs an average of $400+ a year.
Claim less: Your insurance is there to protect you when you have a loss, but a history of frivolous claims will increase your premiums. The size of your claim doesn't register against your history, but the quantity of claims does. Make sure that you review your loss and assess whether it's worth a claim – you'll likely be paying your deductible anyways, which in some cases, could cost more than the claim payout.