A Guide to Different Types of Travel Insurance
July 3, 2018 in Travel Insurance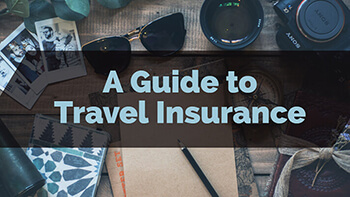 Even the best thought out plants could be interrupted by circumstances that could never be in your control, think of political unrest, global or personal financial troubles, health emergencies or natural disasters. When you're travelling, even a minor accident or sickness can become a major expense and inconvenience. So whether your plans include a trip outside your home province or territory, to the U.S. or another continent, having travel insurance will go a long way toward ensuring you enjoy your time away
Most common policy options available to you
– Trip Cancellation
– Trip Interruption
– Emergency Medical
– Damaged, Delayed or Lost Baggage
– Concierge Assistance Services
Travel insurance packages come in two options far as the duration of the coverage goes; Single trip or Multi-Trip Annual.
Single Trip: Single trip coverage starts on the day you leave home or your home country and ends the day you return. There's usually a 48 hour grace period where you get an automatic extension of coverage in case your common carrier gets delayed or cancelled.
Multi-Trip: Multi Trip plans allow you unlimited number of trips for a year up to a certain number of days each trip. This option is great for professionals who travel for work often and globetrotters.
Coverage Options
– Trip Cancellations for specific reasons like accidents, illness, injury, job loss, military duty. Natural disasters and more.
– Trip interruptions like delays that could include coverage for extra lodging and transportation.
– Dental and medical expenses due to accident or illness.
– Emergency medical/political evacuation coverage in case you can't obtain proper medical care in your location.
– Coverage for lost, stolen, delayed and destroyed luggage.
– Customer service from a trainer travel specialist.
– Coverage for lost, damaged or delayed baggage.
Trip Cancellation
Trip Cancellation insurance will either fully or partially reimburse you the non-refundable portions of the cost in case your flight gets cancelled or you have another unforeseeable emergency causing you to cancel the trip. Before you purchase, make sure you understand what exactly the policy defines as valid emergency.
Trip Interruption
Trip Interruption coverage is similar to trip cancellation however it starts once you leave home for the trip. The policies offer travelers reimbursement of their pre-paid, non-refundable expenses when they unexpectedly need to cut their travel short.
Emergency Medical
Make sure you check your health coverage before you hit the road! Most travelers assume that their health insurance will cover them for any medical service while they're away, but that's not the case. Most health plans today are based on in-network-only coverage. Emergency Medical Coverage can fill that gap. It's the most common type of coverage purchased and is essential for seniors. There's some conditions to coverage for any pre-existing condition but you can get a policy that's medically underwritten to cover your specific condition.
Damaged, Delayed or Lost Baggage
What could be more upsetting than starting your trip with your baggage lost, delayed or damaged? This insurance can reimburse you up to a certain amount for your personal belongings as well as give you extra money to buy necessities if your baggage is delayed.
Emergency Medical
A medical emergency in a foreign country could set you back your life's savings and there's no telling when one could occur. Emergency Medical policies cover hospital and physician costs, evacuation and sometimes life insurance. A standalone Medical plan is perfect If you're travelling outside your home country and aren't concerned with cancellation, interruption, delays or baggage.
It's better to be safe than sorry, you could save a lot of money and grief by signing up for insurance ahead of time.