How to choose the right insurance broker for your business
June 5, 2018 in Business Insurance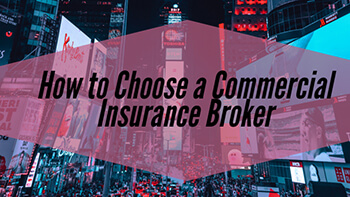 In today's day and age, insurance is very vital to protect your company's bottom line which can be at a risk should any damage or injury occur to your clients, employees and/or corporate assets. While insurance could seem like a commodity, your broker shouldn't be treated as such.
It's very critical for your insurance agent or broker to be familiar with the industry you work for. Whether you manufacture goods, sell services or the food industry. Experience and past performance of underwriting the business successfully is of utmost importance here, you don't want to be someone's guinea pig or learning experience.
What should you be looking for in an agent?
Use the vetting process to make sure you have a broker who understands your business, is responsive and shows flexibility for your position. You also needs a broker who is capable of adhering to your wishes – It's not how the broker wants it, it's how the client wants it.
Rather than depending solely on a firm's website, ask for referrals which most brokers are more than happy to share.  Take time to meet the key people in the firm.
Do ask them about their Errors and Omissions insurance and its limit. If the brokerage only carries $1 million, is this enough if a broker's mistake results in a loss to your business? Keep in mind this is the limit they carry for all clients in the firm.
How to tell if a broker provides good service?
It depends on your needs. Some clients might place responsiveness at the top of their priority, while others like to be kept informed of changes to the industry, including trends with insurance prices. Does the broker keep you informed of the changes to any insurance codes that might result in a premium increase for you?
There is a considerable amount of standardization amongst insurers and their policy wordings; all policies have their own peculiarities or perhaps we can call them advantages/benefits. You need your broker to be up to date on all markets' coverage, claims' approach by those markets and appetites for specific types of coverage and industries. As they say, the devil is in the details.
Other service concerns are:
How does the agent keep you updated on the claims process? Does he or she regularly follow up?
What does the broker do in terms of premium rates? Is he or she doing their best to obtain the best rates for you?
Is the broker delivering renewals two weeks prior to the due date or waiting till the last minute?
Do you feel as if you're part of the process and have control?
How available is the agent? If it's important to you on a Saturday, it should be important to the broker on a Saturday.
How do you know whether to stay with your current broker or to move on?
Loyalty has its place and it's certainly important but it doesn't hurt to have another set of eyes. Ask a broker to review your insurance program – usually at no cost – and make sure you don't have any duplicate coverage or any gaps, while double checking for any extra benefits and reduction to your premium. And if someone else can't improve upon your insurance policies significantly, you know your broker is doing a good job.
Make sure you're picking a good insurance professional as opposed to a good salesperson even if sometimes it may mean picking a broker that's not the cheapest. Trust is a huge factor in decisions like this so look for an insurance broker who shows knowledge and flexibility in your business and start working towards that trusted business relationship.